Looking for Newsletter Copywriting Services?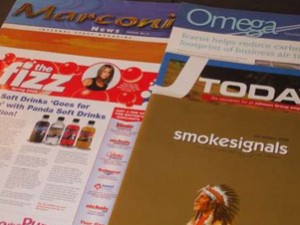 Companies in Manchester, Cheshire and across the North-west have already benefited from Buzzwords' newsletter copywriting experience. Now's the time to join them!
Wherever you're located, you can rely on Buzzwords' experience to provide newsletter copywriting of the highest standard. That applies equally to online or print versions. For more than 20 years, Mike Beeson has been writing newsletters for organisations such as Vimto, Lego, Pilkingtons, Marconi, Manchester Metropolitan University and Sheffield University.
Besides impeccable copywriting credentials, Mike has considerable journalistic experience including five years as a freelance business copywriter with the Manchester Evening News. He's also the published author of many articles and features in leading UK trade and professional publications such as Huffington Post.
You'll get a clearer idea of this from the newsletter copywriting examples below:
Online Newsletter Copywriting
Online newsletters are a completely different animal to printed newsletters. On the face of it, they're just another transient e-mail. And yet…
It's the direct and immediate links back to your website that make online newsletters so powerful.
An online newsletter is more effective in its potential to link stories to a 'full cream' version on your website.
They're less expensive to produce – especially once a template has been designed!
There are obviously no print or delivery costs which means you can send them out more frequently.
When used with an 'opt-in' database, online newsletters are a cost-effective way of keeping clients informed about your latest news; special offers; seminars and training courses; e-books, white papers, membership offers and so on.
Very importantly: online newsletters keep your product or service in the mind's eye of your clients for potential future business. They won't all want to buy right now, but it's more likely you'll be in the frame when they're actively looking around for a supplier.
An online newsletter is very accountable. 'Results' can be measured in great detail. We can provide you with a full and graphical breakdown of who's clicked on your newsletter, the links they've clicked, who's deleted your newsletter, unsubscribed and so much more!
Here are some examples of Buzzwords' online newsletter copywriting and design:
Newsletter Copywriting and Newsletter Content
When it comes to creating a first-class newsletter, the value of professional copywriting cannot be over-stated. As well as targeting the audience of your choice – employees, existing and potential new clients, suppliers, investors, the local community and so on – the familiar medium of the printed or on-screen word can address company issues clearly and as regularly as you like!
Ideas for newsletter content in the business-to-business arena include: new product or services launch, joint ventures and partnerships formed, relocating to new premises, company expansion and takeovers, new staff, suppliers, contracts won, your latest Annual Report and so on. Newsletters targeted at end users and the general public will focus more on human interest stories, particularly as they relate to your company's products and services.
Client and Supplier Newsletters
External newsletters work on several levels. Regular communications from your company will keep existing and potential clients informed about what you're up to in business. Likewise, suppliers will want to know that they're feeding into a progressive company which appreciates their contribution.
By providing information that shows off your organisation in a positive light, newsletters lend authority to your brand. Including case studies, for example, will add to your credibility through the use of third party endorsement. (See Buzzwords' case study copywriting page for more details.)
End user/Customer Newsletters
Newsletters and company magazines as used outside the world of business-to-business will help retain customers, encourage long-term brand loyalty and communicate company and brand values. The copywriting style and content used in these publications is obviously very different from business-to-business newsletters.
Staff Newsletters and Internal Communications
Keeping staff in the picture where company developments are concerned has never been more important. Internal communications – or 'Internal PR' as it is also known – is about many things, but the internal staff newsletter is a key vehicle in all this.
It provides a link between management and employees – and a forum for company and 'people' news. It's also about the transparency of management – building trust in the hearts and minds of employees so they will be your best brand ambassadors.
Internal communications can use a range of tools, but they all come down to the word 'involvement'. That is why newsletters are so powerful. In their simple format, they are the most direct way of communicating company values, of profiling the changes – good or bad – which occur in the everyday doings of any organisation.
Here's how newsletters (including outstanding copywriting and design) play a major part in improving Internal Communications:
They link management to employees by actively inviting their involvement
Newsletters provide a platform for sharing a vision of shared values and connecting with the goals of external PR
They inform everyone about change
Newsletters create a sense of direction
Most of all, they encourage the team spirit that is essential to maximising the potential of a company's most valuable asset: its people.
Newsletter Copywriting, Design and Print
Buzzwords is happy to work on standalone newsletter copywriting projects for direct clients as well as for advertising, design and PR agencies. If, however, you'd like us to handle design, print and photography, we will gladly co-ordinate a cost-effective package on your behalf. In addition, Buzzwords can produce HTML online newsletters and handle the despatch using either your own or bought-in databases.
For a total commitment to your ongoing newsletter copywriting needs, contact Mike Beeson today to discuss the various options, costs and ways of working together. Tel: 01457 764050 or click here to send an email.