Looking for a Property Copywriter?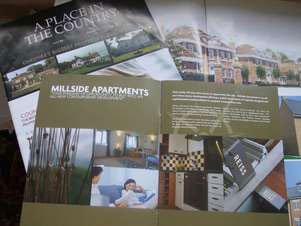 Property copywriting oils the wheels of opportunity. Whether you're a builder, developer, surveyor, estate agent or social housing professional – Mike Beeson is a property copywriter with the experience you need to open lots of doors!
Working with an experienced property copywriter is a no-brainer when it comes to maximizing sales from your target market.  Check out some of the copywriting samples on this page to discover how Buzzwords can provide the magical 'X-factor' your property business needs.
We're talking here about highly effective brochures, newsletters, websites and more.  And as we enter an uncertain post-Covid-19 world, the one thing you can be certain of is that competition will remain as fierce as ever.
The challenges are many – and so are the potential rewards.  Without a doubt, there are sure to be new opportunities round every corner for those who can manage and balance risk and resources.
That applies equally to commercial and residential property schemes where the catalyst for success will rest with the quality of your marketing collateral.  Top of that list must be clear, confident copywriting borne of wide-ranging sector experience and finely-honed skills.
To take advantage of this measured strategic approach to achieving new levels of success, call Mike Beeson today on 01457 764050.
UK PROPERTY PRICES – THE 2021 OUTLOOK
The economic effects of coronavirus have yet to work their way through the system.  House prices have continued to rise into Quarter 1 of 2021 but how long that will last is uncertain.  If and when the government removes financial support for jobs and businesses, market forces may prevail.  However, these may be offset by mass vaccinations and the easing of restrictions on the economy.  Few experts would be bold enough to make predictions that could be relied upon in such an uncertain market.
See how things looked before the Covid-19 pandemic… 
UK HOUSE PRICES – THE OUTLOOK IN EARLY 2020 
It was felt that the December 2019 General Election would remove the economic uncertainties of a so-called 'hard Brexit'.  Little did anyone know that the pandemic was just weeks away.  The anticipated release of pent-up demand that prompted forecasts of house price rises of between 2% and 4% in 2020 was suddenly under threat.  Fortunately, changes to Stamp Duty and massive fiscal support from the government led to respectable price rises – and even a mini-boom in certain areas.
ZOOPLA and RIGHTMOVE price predictions for 2020: London may see increases of 2%.  Northern cities up to 4%
HALIFAX – increases of between 1% and 3%
ROYAL INSTITUTION OF CHARTERED SURVEYORS – up to 2%.
UK HOUSE PRICE TRENDS 2018-19
UK property prices grew by just 0.3% in the year to November 2018
This is the lowest rate of increase in six years
Affordability will remain a major issue for buyers despite the benign influences of low interest rates and low levels of unemployment
Brexit uncertainty continues to be a drag on the UK economy as a whole – and the housing market in particular.
UK PROPERTY PRICES UPDATE 2016-2017
POST-REFERENDUM (2 JULY 2016)
House prices predicted to fall by 5% by Xmas 2016
Volume of house sales expected to fall by up to 10% nationally
A possible 'DIY recession' could see a large increase in people deferring house purchases and a fall in property investors.
PRE-REFERENDUM (9 JUNE 2016)
'Decline in buyer inquiries expected to trigger fall in house prices over the next three months.' (The Guardian)
'Uncertainty over the EU referendum and a stamp duty increase for buy-to-let investors in April are blamed for the expected price plunge in the coming months.  London and East Anglia are expected to be hardest-hit.' (The Express)
'House prices are forecast to fall for the first time since 2012 as demand for property falls at its fastest rate in eight years.' (The Telegraph)
Buzzwords' extensive experience of property copywriting is a great opportunity for builders, developers, estate agents and social housing specialists who are looking for a winning professional edge.
Whether you're talking top-end residential property – new build, re-build or refurb – or maybe you're involved in the social housing sector where modern methods of construction (MMC) are being used to offset the national housing shortage… Buzzwords has the understanding you need to achieve the results you deserve.
Take a look at Buzzwords' property copywriter examples below for an indication of writing style and scope of experience. And if you have other ideas you'd like to try out – PR, innovative website approaches and so on – you know you can rely on the cost-effective copywriting and design support of Buzzwords.

Check out this online version of a magnificent hard-back brochure that reflects the quality of 10 high-end apartments in Oxshott, Surrey.