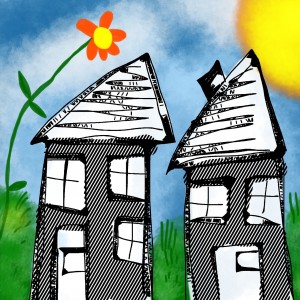 Prophets of Doom still stalk the Land of Opportunity. As yet, the lights are still off and prospects for the post-Brexit property sector are uncertain. UK copywriters are holding their breath!
This is all a great pity. When you consider that private housebuilding is worth an estimated £30 billion per year to the British economy, any further shocks could leave a big sinkhole in pro-Brexit expectations.
At Nationwide, the country's biggest building society, the jury is out regarding near-term prospects for the housing market. By the time you read this, the Bank of England may have reduced interest rates and reverted to Quantitative Easing.
To keep the house-building show on the road – and the estimated 250,000 jobs that depend on its success – it may be that local authorities and housing associations will need to pick up the baton. If not, recession could be just that little bit nearer.
Interest rates will be rock bottom of course, and fixed-term mortgages will be tempting for those in secure employment – and with a big, fat deposit. Who knows whether house prices will remain stubbornly high?
A confusing picture
In London, the rate of price increases is slowing – and not before time. For the rest of the country, ripples from the London market will probably arrive within a few months. For first-time buyers, this is good news. For investors and others, probably less so.
Rightmove, the online property portal, has suggested we should all hold our nerve: 'Worries of a slowing UK housing market and potential closure of estate agents are overdone,' they say.
It looks like we'll be well into autumn before any clear trends emerge in the housing market. The summer months are traditionally fairly quiet as people take their minds off property issues and rush off for a metaphorical fix of sun, sea and sand.
What we'll be coming back to in September and October is anyone's guess. Property professionals will be trying frantically to read the runes. Planning ahead in this type of economic climate is obviously tricky.
Not only do they have to consider the broad-brush shifts in the macro-economy. There's also the not inconsiderable minutiae of how builders will cope with rising materials costs; how banks and building societies will respond to short-term realities in the wider economy; and, most crucial of all, how house buyers and sellers will behave.
To find out more about Buzzwords' Property Copywriting services, please follow this link:
www.buzzwords.ltd.uk/freelance-copywriting/property-copywriter